Many governments and business organizations have many branches, with interests reaching into many different areas, forming an intricate web of influence.
But it seems every time some journalist decides this is a bad thing, they never go with any sort of spider analogy, and bring out the big guns, calling it an octopus.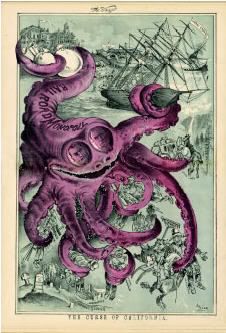 In 1901, Frank Norris wrote
The Octopus
, about some farmers having their land stolen by an evil money-hungry railroad. He based the story on
a dispute in California 20 years earlier, involving the Southern Pacific Railroad
.
The story is an indictment of the railroads, and invokes the image of the octopus to describe the organization, with it's grasping tentacles choking and wrapping around everything, greedily taking, and not caring about anything else.
And doesn't give a second thought to the tarnished image he gave octopuses in doing so.
Roughly a century later, in the aftermath of the
Inslaw scandal
, a journalist named Danny Casolaro was found dead of an apparent suicide, while investigating Inslaw, and multiple other organizations, the entirety of which he termed, yet again,
the octopus
.
The investigation regarding his death is very convoluted, and many conspiracy theories have arisen, suggesting foul play on behalf of any number of the groups he was investigating.
And while none of these organizations has any known connections to cephalopods, the mental link has been made, and now any overly large, bureaucratic, or seemingly corrupt organization is just a matter of time from being called an octopus.
So addressing
Yellow Journalism
of the highest order, we at CADUCEUS, as un-ironically as possible, condemn journalists in the strongest terms possible as sensationalist scaremongers and send them to the list of shame.
And though we are by no means anti-capitalist, or anarchist, we send government and big business to the list as well, for their ongoing easy target status, and downright bad behavior in general. After all, there aren't many press conferences declaring their not being an octopus, which close with saying "but not that that would be bad!"